Posted by Erica on Aug 12, 2015
MaxTow introduces the 1998-2002 Dodge Ram Triple Pillar Pod in gray (MT-304G) and tan (MT-304T) and available speaker cut out option. The gray and tan triple pillar pod allows you to mount three 52mm MaxTow Double Vision gauges to your existing A-pillar to give your Ram a custom fit and finish. The 98-02 Triple pillar pods are crafted from the highest quality ABS plastic to withstand cracking, fading, and warping, and may also be painted using any ABS plastic paint. Both gray (MT-343G) and tan (MT-343T) triple pillar pods are available with or without a speaker hole for you're A-pillar speaker.
MaxTow offers these pods in the 98-02 Dodge Ram custom gauge package which allows you to choose between the black, tan, or gray triple pillar pod with or without speaker hole, as well as choosing three MaxTow Double Vision white or black face gauges.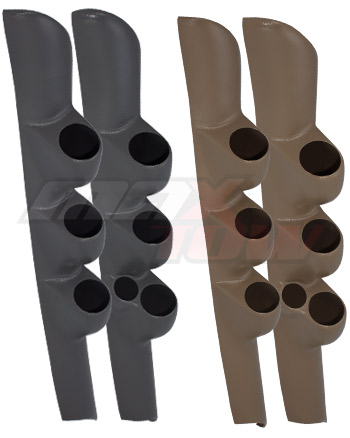 For the 98-02 Dodge Ram Diesel Cummins truck MaxTow recommends a 60 PSI Boost Gauge, 1500°F Pyrometer EGT Gauge, Transmission Temperature Gauge, or a 30 PSI Fuel Pressure Gauge. MaxTow offers adapters and accessories specifically designed to make the installation process of the gauges and sensors as easy as possible. MaxTow requires a snubber valve when installing the 30 PSI Fuel Pressure Gauge to your 98-02 Dodge Ram Cummins truck. The snubber valve regulates and eliminates harmful fuel pressure spikes at startup which could cause early and unexpected failure of fuel pressure sending units and gauges. Grabbing a MaxTow banjo bolt adapter will replace your stock banjo bolt to allow for an easy installation of the required snubber valve. When you grab the 60 PSI Boost gauge, make sure to grab the boost bolt adapter as it will thread directly into your Cummins Intake Manifold for extremely accurate boost pressure readings. If you choose a transmission temperature gauge for your Cummins, MaxTow recommends using the transmission test port extender to ensure your transmission temperature sensor does not damage your transmission. The transmission test port extender only works for the 5.9 Cummins 48RE Transmissions.
If you're having trouble deciding which MaxTow gauges to use on your gasoline Dodge Ram truck, MaxTow recommends the 2200°F Exhaust Gas Temperature Gauge, 100PSI Fuel Pressure Gauge, Transmission TeTemperature Gauge, or Water Temperature Gauge to fill your triple pillar pod.ons and will not work for the 6.7 Cummins 68RFE Transmissions.
The 98-02 Dodge Ram triple pillar pods will fit any 1998-2002 Dodge Ram 1500, 2500, or 3500 truck. These triple pillar pods will not fit a 2002 Dodge Ram 1500 truck. MaxTow includes all necessary mounting hardware, installation instructions, free lifetime technical support, as well as a one year limited warranty with every pillar pod and custom gauge package purchase.