Black & Blue MaxTow High Pressure Oil Pressure HPOP Gauge
Black & Blue MaxTow High Pressure Oil Pressure HPOP Gauge
MaxTow's Double Vision™ Black & Blue High Pressure Oil Pressure Gauge is electronically driven and reads your truck's HPOP from 0 to 4,000 PSI by simply connecting the sensor wires to the factory injector control pressure sensor (ICP sensor). This HPOP gauge allows you to closely monitor the high pressure that enters the oil pumps of your Ford Power Stroke 7.3L or 6.0L diesel engine.
Are you monitoring the HPOP in your Ford Power Stroke? An HPOP Gauge is an important tool to ensure your injectors for fuel are not starving from a weak or defective HPOP, which could lead to a fuel system failure. The HPOP in your Power Stroke engine is what drives the injectors to supply fuel to the engine. The HPOP receives the oil from the low pressure oil pump and the internal computer then tells the injectors exactly when to fire. These pressure can be anywhere within the range of 500 to 3,000 PSI. An upgraded HPOP may be required if fuel injectors or the fuel system is upgraded, to ensure that there is sufficient fuel feeding the engine.
The Double Vision™ Gauge Series features an analog display using an illuminated red needle combined with a blue digital LED readout, giving you the classic gauge style with quick glance digital readings. This 2 1/16" (52mm) HPOP gauge features stepper motor technology that allows for extremely smooth needle movement that keeps up with the changing pressures of the truck. Each MaxTow gauge comes standard with daytime and nighttime dimming modes with three customizable brightness settings for each mode, providing multiple options to fit your preference when hitting the road during the day or the late hours of the night! The brightness recall function remembers the previous setting the gauge was on before powering the truck down so you won't have to set it every time!
MaxTow's HPOP Gauge includes a 9' sensor harness that installs to the ICP sensor and a 3' power harness that connects to the power source of the truck. Each gauge also includes a gauge visor that eliminates any glare from the sun and a mounting bracket that will hold the gauge in place in any type of gauge pod. MaxTow includes installation instructions, free lifetime technical support and a one year limited warranty with each purchase. Get ready to hit the road and Tow to the Max™!
Adding the HPOP Gauge Wiring Pigtail Harness eliminates the need to splice into any factory wiring to receive high pressure oil pressure readings. This gauge harness installs to the injector control pressure sensor (ICP sensor) to provide accurate readings from the source. This HPOP harness features a length of 6" with 9" sensor and ground lead wires.
2 1/16" (52mm) Black Face Gauge with Magnified Clear Lens
HPOP Readings from 0 to 4,000 PSI
Recommended for 7.3L & 6.0L Ford Power Stroke Only
Double Vision™ Display Feature with Analog and Digital Readings
Blue LED Through Dial Lighting with a Red Illuminated Needle
Daytime Dimming Mode with 3 Customizable Brightness Settings
Nighttime Dimming Mode with 3 Customizable Brightness Settings
9' Sensor Harness
3' Power Harness
Gauge Visor
Mounting Hardware
Installation Instructions
Free Lifetime Technical Support
One Year Limited Warranty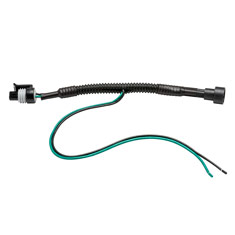 HPOP Pigtail Harness
Quick & Easy Installation Without Having to Splice or Cut into Factory Wires
Connects Directly to Injector Control Pressure (ICP) Sensor
Plug & Play
Fits 1994-1997 7.3L Power Stroke
Fits 1999-2002 7.3L Power Stroke
Fits 2003-2007 6.0L Power Stroke
| | |
| --- | --- |
| PSI Range of Reading: | 0 - 4,000 PSI |
| Diameter of Gauge: | 2 1/16" or 52mm |
| Depth of Gauge: | 1 5/16" or 33mm |
| 12 Volt Power Required: | ✓ |
| Power Wire Harness Length: | 3' Power Wire |
| Sensor Wire Harness Length: | 9' Sensor Wire |
| Included Parts List: | Power Harness, Sensor Harness, Mounting Hardware, Gauge Visor and Instructions |
| Power Harness Gauge Size: | 18 Gauge |
Gauge Series
Black & Blue MaxTow Series
Range of Reading
0 - 4,000 PSI
Instructions
http://www.maxtow.com/content/instructions/gauges/MT-DV21.pdf
GoogleTitle
MaxTow 4,000 PSI HPOP High Pressure Oil Pressure Gauge Kit - Double Vision | Digital & Analog Readings - Black Dial | Blue LED - 52mm | 2-1/16"
Related Products