Black & Blue MaxTow High Pressure Oil Pressure HPOP Gauge
Item Number:

MT-BDV21

UPC:

842559100172

Gauge Series:

Black & Blue MaxTow Series

Gauge Type:

HPOP

Range of Reading:

0 - 4,000 PSI

Face Color:

Black

Size:

52mm

Lens:

Clear

Backlighting Color:

Blue

Sending Unit:

Electronic

Measurement Unit:

Standard

Display:

Combo

Instructions:

/content/instructions/gauges/MT-DV21.pdf

GoogleTitle:

MaxTow 4,000 PSI HPOP High Pressure Oil Pressure Gauge Kit - Double Vision | Digital & Analog Readings - Black Dial | Blue LED - 52mm | 2-1/16"

Delivery By Christmas
CONTIGUOUS US ONLY

Extended Holiday Returns
ACCEPTED UNTIL JANUARY 31ST

Free In-House Support

One Year
Limited Warranty
Overview
MaxTow's Double Vision™ Black & Blue High Pressure Oil Pressure HPOP Gauge allows you to closely monitor the high pressure that enters the oil pumps of your Ford Power Stroke 6.0L or 7.3L diesel engine. This gauge is electronically driven and reads your truck's HPOP from 0 to 4,000 PSI by simply connecting the sensor wires to the factory injector control pressure sensor (ICP sensor) for extremely accurate readings directly from the source. Get ready to hit the road and Tow to the Max™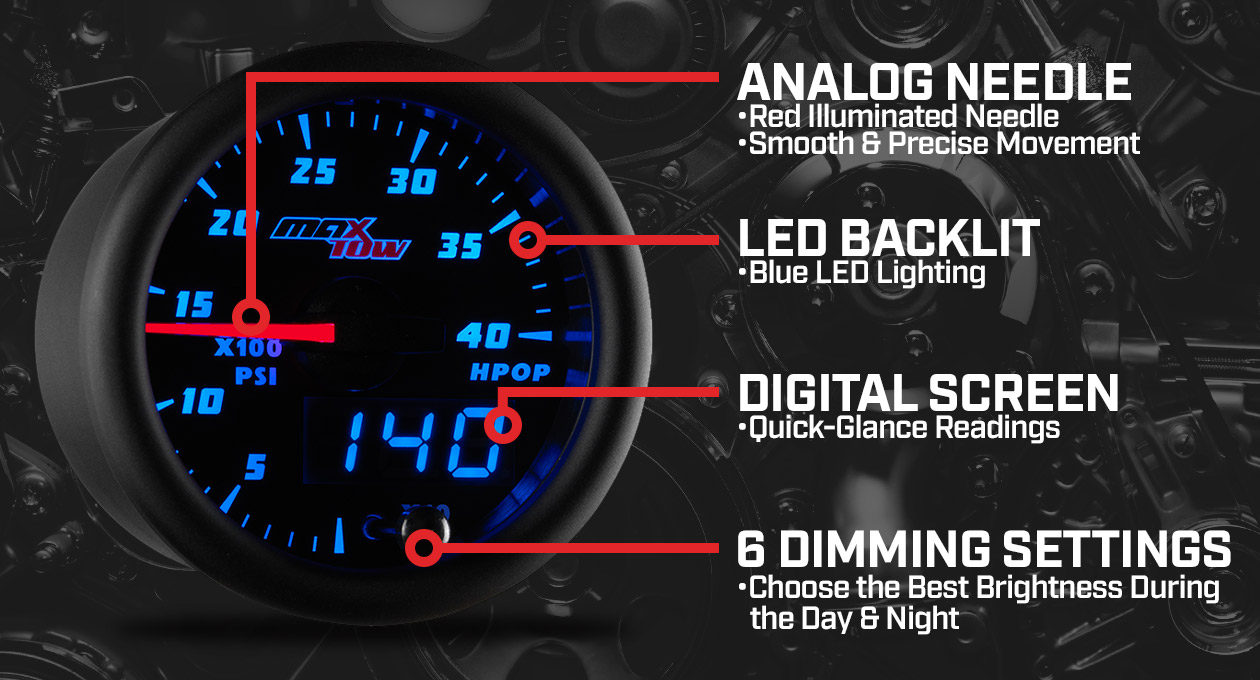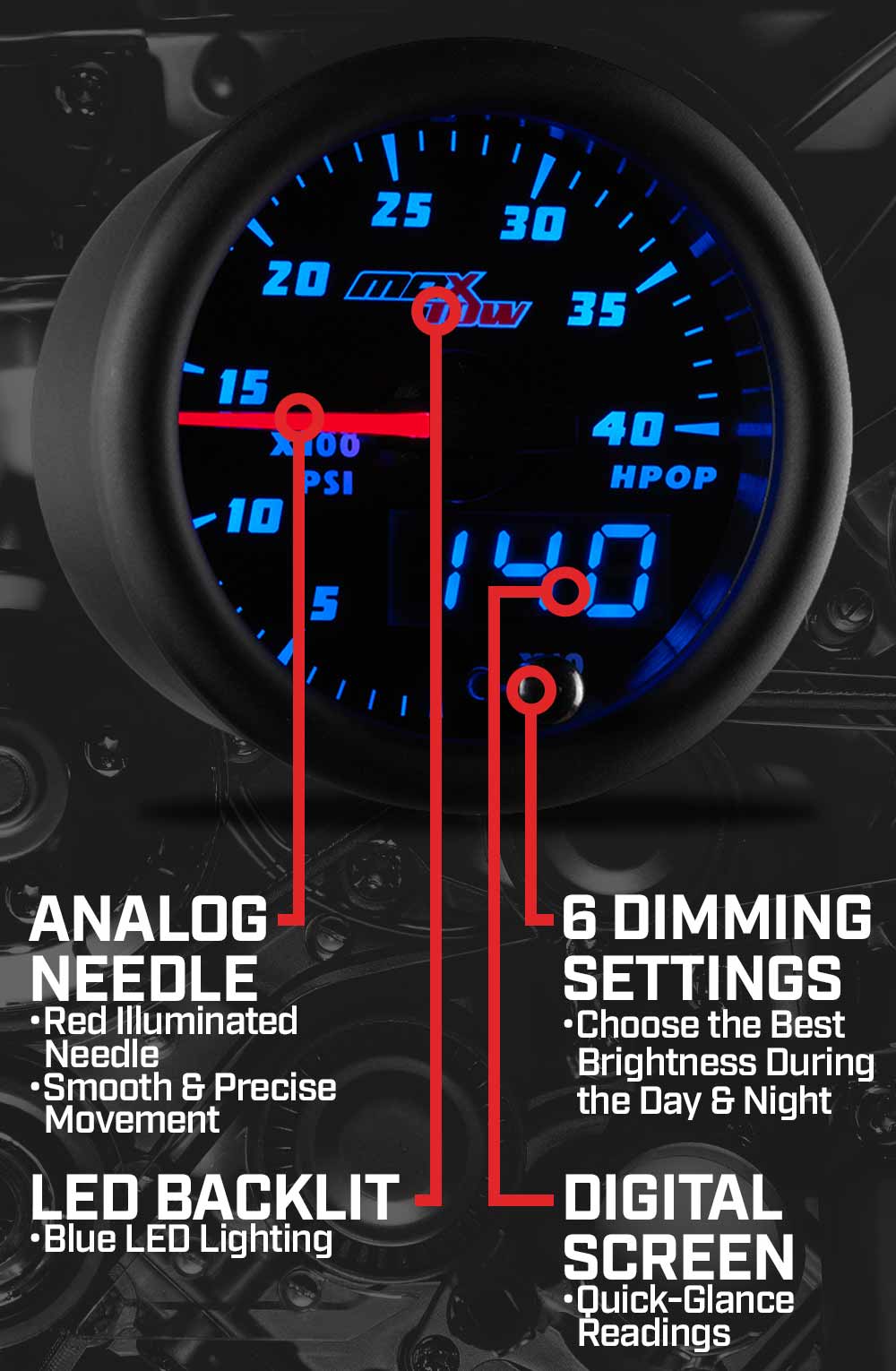 MaxTow's Black & Blue Double Vision™ Gauge Series features a black gauge dial and blue LED display with an illuminated red needle. You get the classic look of an analog gauge combined with a blue digital numerical readout. This 2-1/16" (52mm) gauge outperforms the competition with features like stepper motor technology which allows for all needle movement to be exceptionally smooth and all gauge readings to be extremely accurate. Brightness Recall remembers the previous brightness setting before powering down your truck.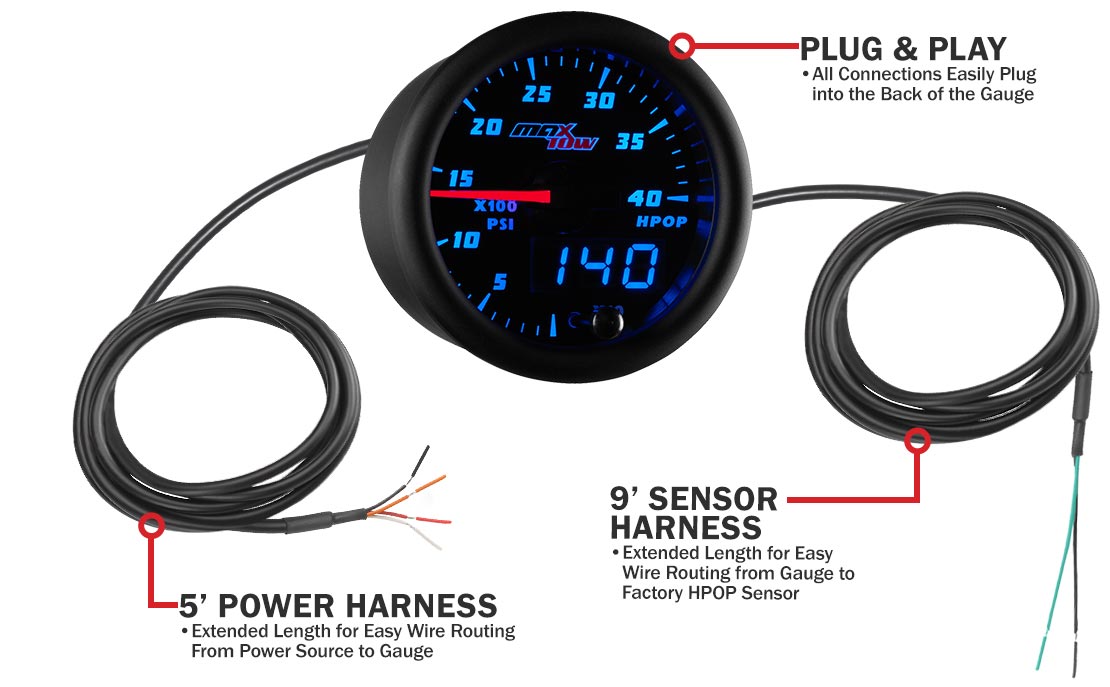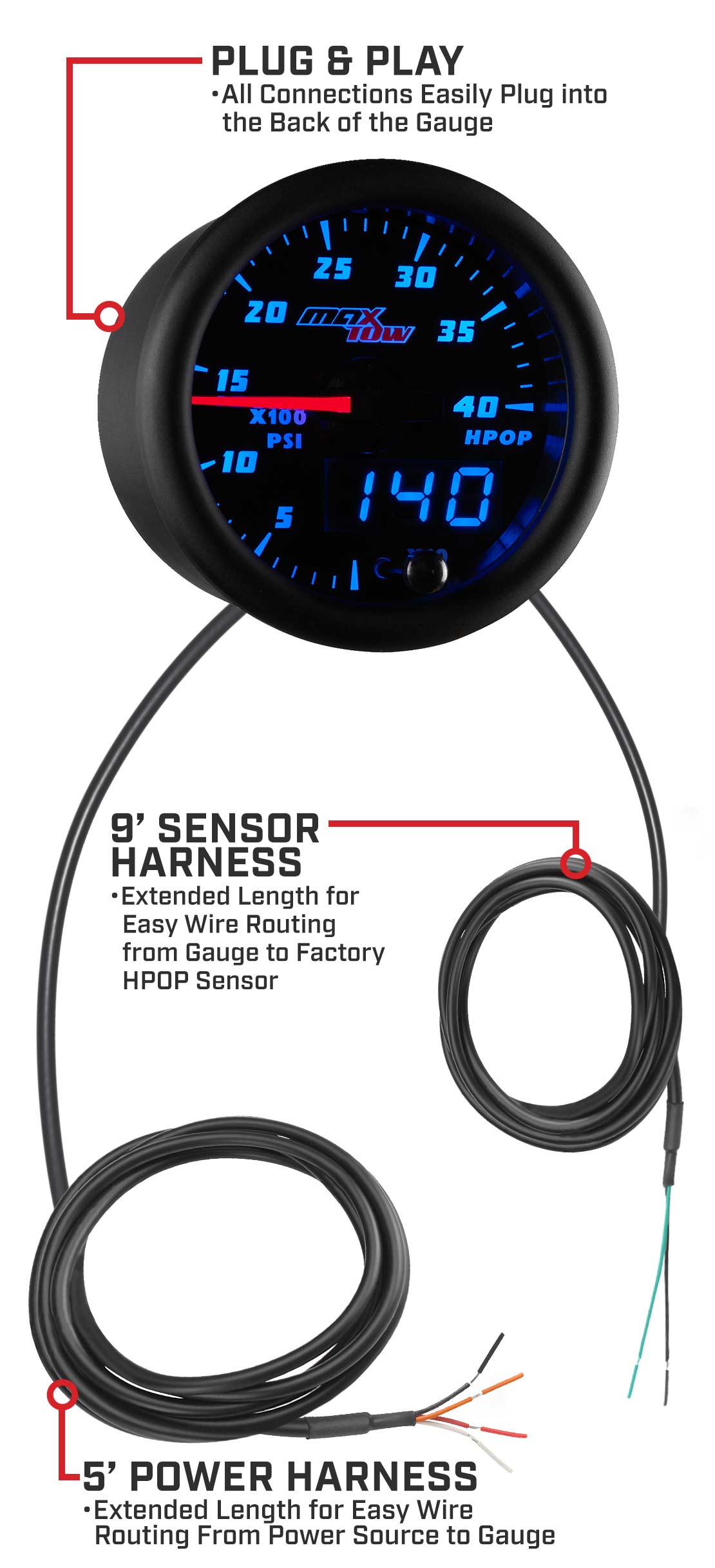 This high pressure oil pump gauge features extended wire harnesses for both sensor (9') and power (5') connections, ensuring you will have more than enough wiring for a quick and easy installation. The 9' sensor harness connects directly to the ICP sensor. Easily attach both harnesses to the back of the gauge by utilizing seamless Plug and Play connectivity.
What's Included
2-1/16" (52mm) HPOP Gauge
9' Sensor Harness
5' Power Harness
Gauge Visor
Mounting Bracket
Mounting Bracket Hardware
Installation Instructions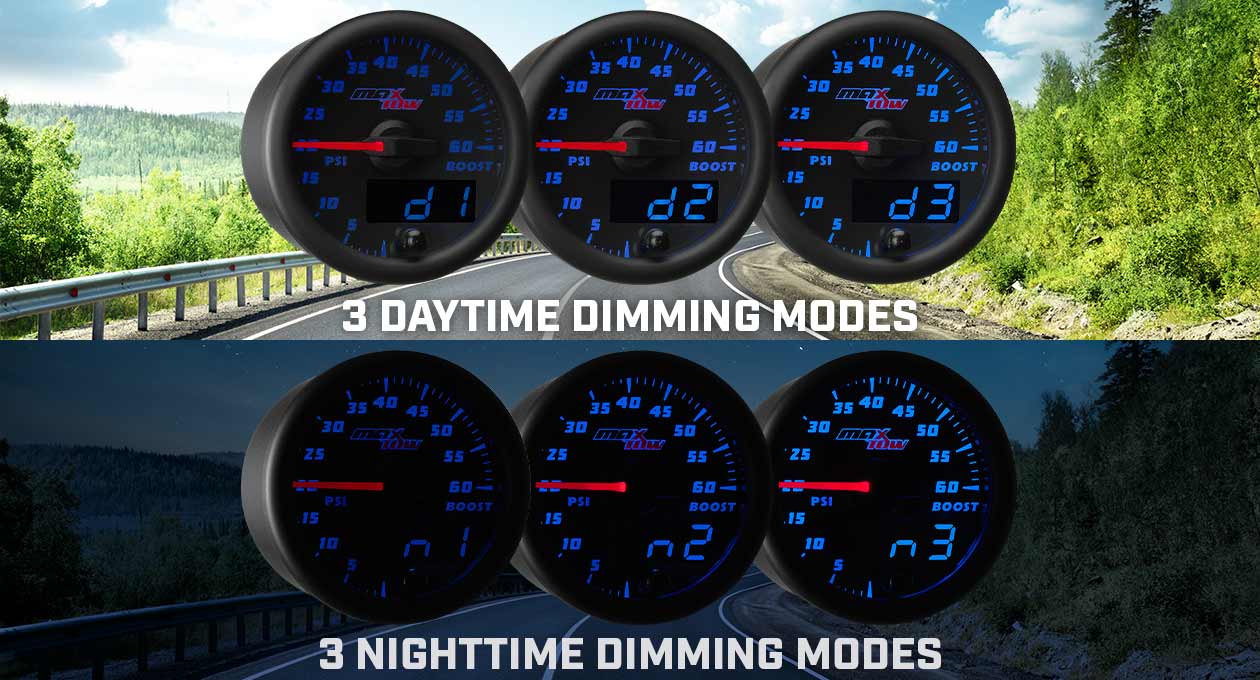 Ford Powerstroke 6.0 & 7.3 HPOP gauges at MaxTow feature innovative Daytime and Nighttime Dimming Modes with three customizable brightness settings (Low, Medium, High) for each mode. This gives you multiple dimming options, allowing you to set your individual preference when hitting the road during the day or later on at night. Adjust for the right amount of brightness as you're taking readings.
Note: Adding HPOP Gauge Wiring Pigtail Harness eliminates the need to splice into factory wiring to receive high pressure oil pressure readings. This harness has a length of 6" with 9" sensor and ground lead wires.
MaxTow HPOP Gauge For Ford Powerstroke
Driving a Ford Power Stroke? Then monitoring HPOP in your diesel engine is important because it drives the injectors to supply fuel to the engine. If you have weak or defective HPOP, you could be starving the injectors of fuel which could lead to fuel system failure. HPOP works by receiving the oil from the low pressure oil pump in order to drive the injectors, and the internal computer then tells the injectors exactly when to fire. These pressures can be anywhere within the 500 to 3,000 PSI range. You may also need to upgrade your HPOP if the fuel injectors or fuel system have been modified to ensure there is sufficient fuel feeding the engine.
MaxTow HPOP Gauges For 6.0 Powerstroke & 7.3 Powerstroke
MaxTow high pressure oil pressure gauges are designed specifically for Ford 6.0L Powerstroke and 7.3L Powerstroke diesel trucks. HPOP is integral to these engines because the HPOP system receives oil from the low pressure oil pump in order to drive the injectors. Compared to a 6.0 or 7.3 Powerstroke HPOP test gauge, you're getting much more comprehensive monitoring with MaxTow's gauge. This 6.0 & 7.3 Powerstroke HPOP gauge gives you access to reliable readouts anytime you're on the road with your Ford truck.
MaxTow Guarantee
MaxTow Gauges is your source for cutting-edge aftermarket automotive products specially designed for gas and diesel trucks. Shop with confidence knowing all purchases are backed by a One Year Limited Warranty and Free Lifetime Tech Support. You will also have access to an unrivaled customer support experience in the event you have any questions about our gauges, pods and accessories. Established in 2012 by truck owners for truck owners, we remain dedicated to getting the most out of any truck. Get ready to hit the road and Tow to the Max™
Tech Specs
| | |
| --- | --- |
| PSI Range of Reading: | 0 - 4,000 PSI |
| Diameter of Gauge: | 2 1/16" or 52mm |
| Depth of Gauge: | 1 5/16" or 33mm |
| 12 Volt Power Required: | ✓ |
| Power Wire Harness Length: | 3' Power Wire |
| Sensor Wire Harness Length: | 9' Sensor Wire |
| Included Parts List: | Power Harness, Sensor Harness, Mounting Hardware, Gauge Visor and Instructions |
| Power Harness Gauge Size: | 18 Gauge |
Instructions