Black & Green MaxTow Differential Temperature Gauge
Item Number:

MT-DV22

UPC:

842559125403

Gauge Series:

Black & Green MaxTow Series

Gauge Type:

Differential Temperature

Range of Reading:

100 - 250° F

Face Color:

Black

Size:

52mm

Lens:

Clear

Backlighting Color:

Green

Sending Unit:

Electronic

Measurement Unit:

Standard

Display:

Combo

Instructions:

/content/instructions/gauges/MT-DV22.pdf

GoogleTitle:

MaxTow 250F Differential Temperature Gauge Kit - Double Vision | Digital & Analog Readings - Electronic Sensor - Black Dial | Green LED - 2-1/16"

Delivery By Christmas
CONTIGUOUS US ONLY

Extended Holiday Returns
ACCEPTED UNTIL JANUARY 31ST

Free In-House Support

One Year
Limited Warranty
Overview
MaxTow's Double Vision™ Black & Green Differential Temperature Gauge is an essential monitoring tool for the temperature of gear oil in the rear differential of your truck. This electronically driven diff temp gauge reads differential temperature from 100° to 250° Fahrenheit. Differential temperature directly affects the performance of the transmission and rear differential. High temperatures in the rear differential can also lead to premature wear and costly repairs.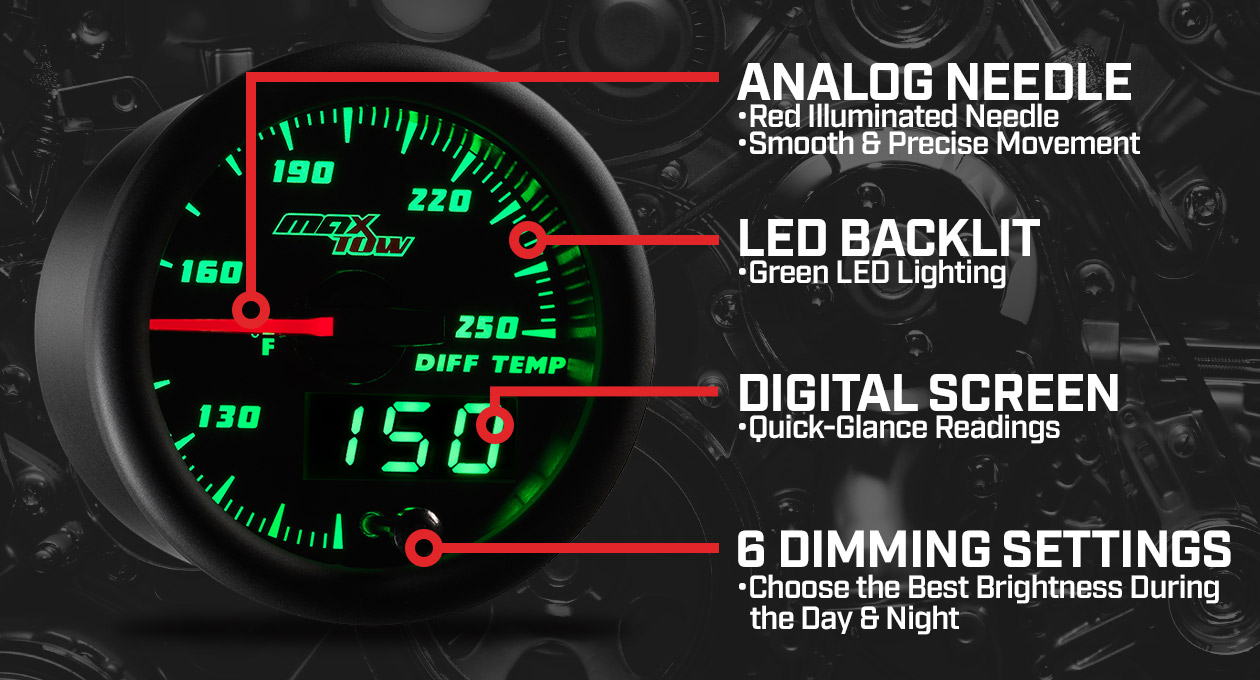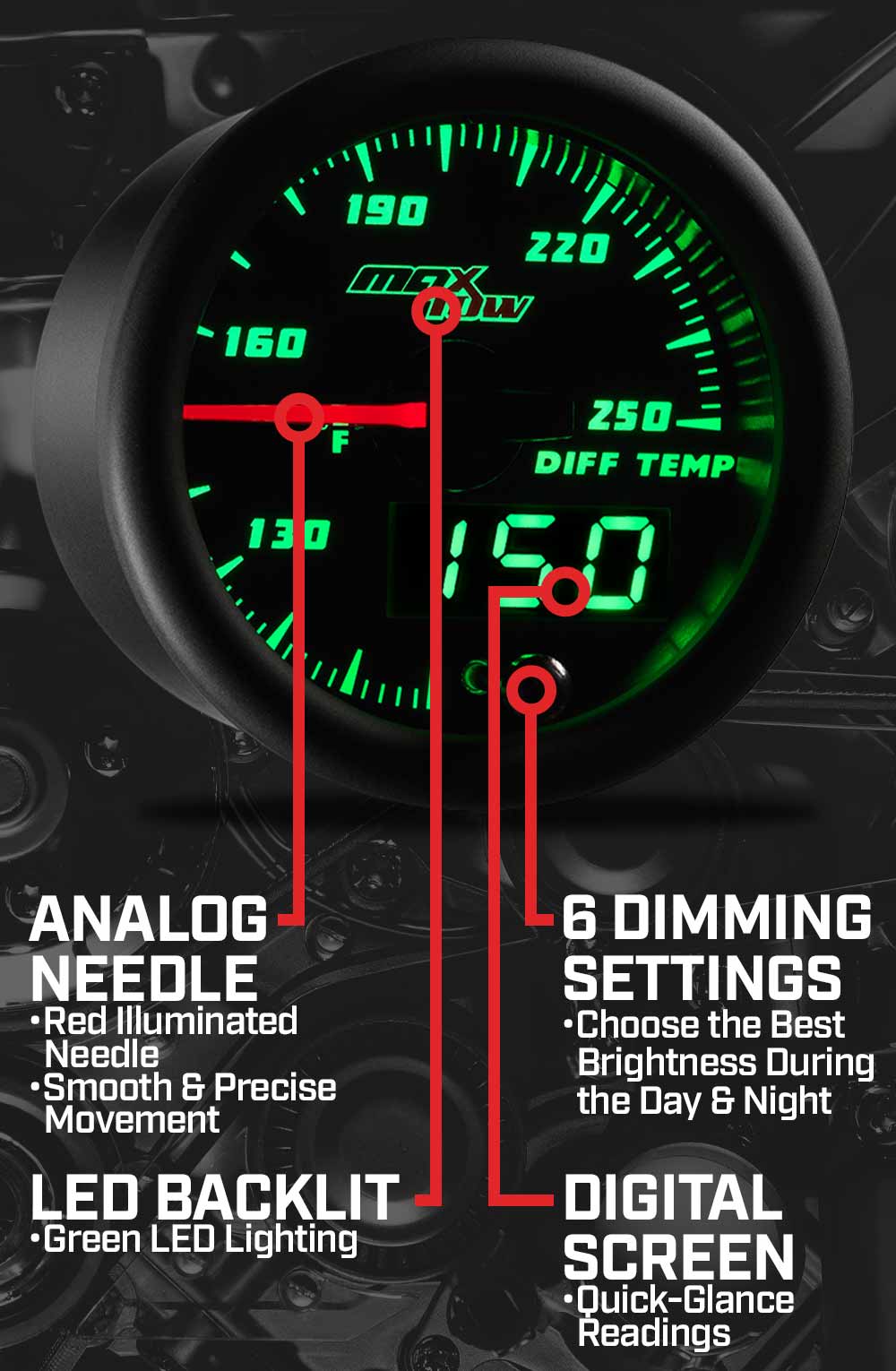 MaxTow's Black & Green Double Vision™ Gauge Series features a black gauge dial and green LED display with an illuminated red needle. You get the classic look of an analog gauge combined with a green digital numerical readout. This 2-1/16" (52mm) gauge outperforms the competition with features like stepper motor technology which allows for all needle movement to be exceptionally smooth and all gauge readings to be extremely accurate. Brightness Recall remembers the previous brightness setting before powering down your truck.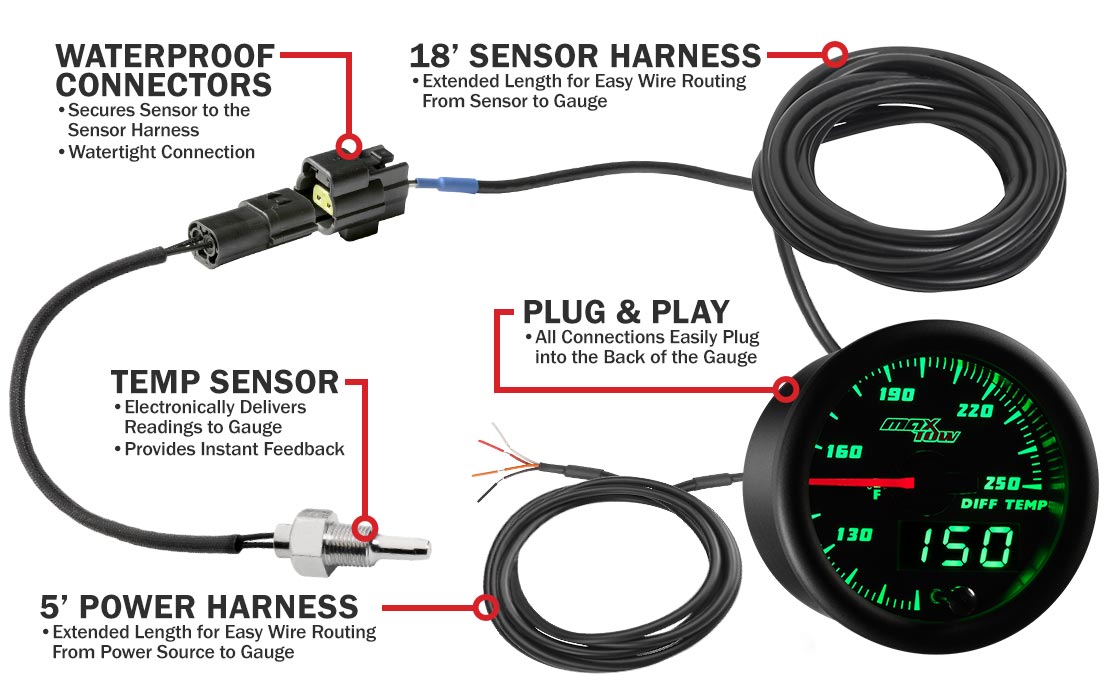 MaxTow's differential temp gauge kit features sensor and power harnesses with extended lengths for added flexibility during installation. The sensor harness is 18' long with a waterproof connector and the power harness is 5' long, assuring you'll have more than enough wiring for the differential temperature gauge install. Easily attach both harnesses to the back of the gauge by utilizing seamless Plug and Play connectivity.
What's Included
2-1/16" (52mm) Differential Temperature Gauge
1/8-27 NPT Temperature Sensor with Waterproof Connector
1/8-27 NPT Weld-In Bung
18' Sensor Wire Harness with Waterproof Connector
5' Power Harness
Gauge Visor
Mounting Bracket
Mounting Bracket Hardware
Installation Instructions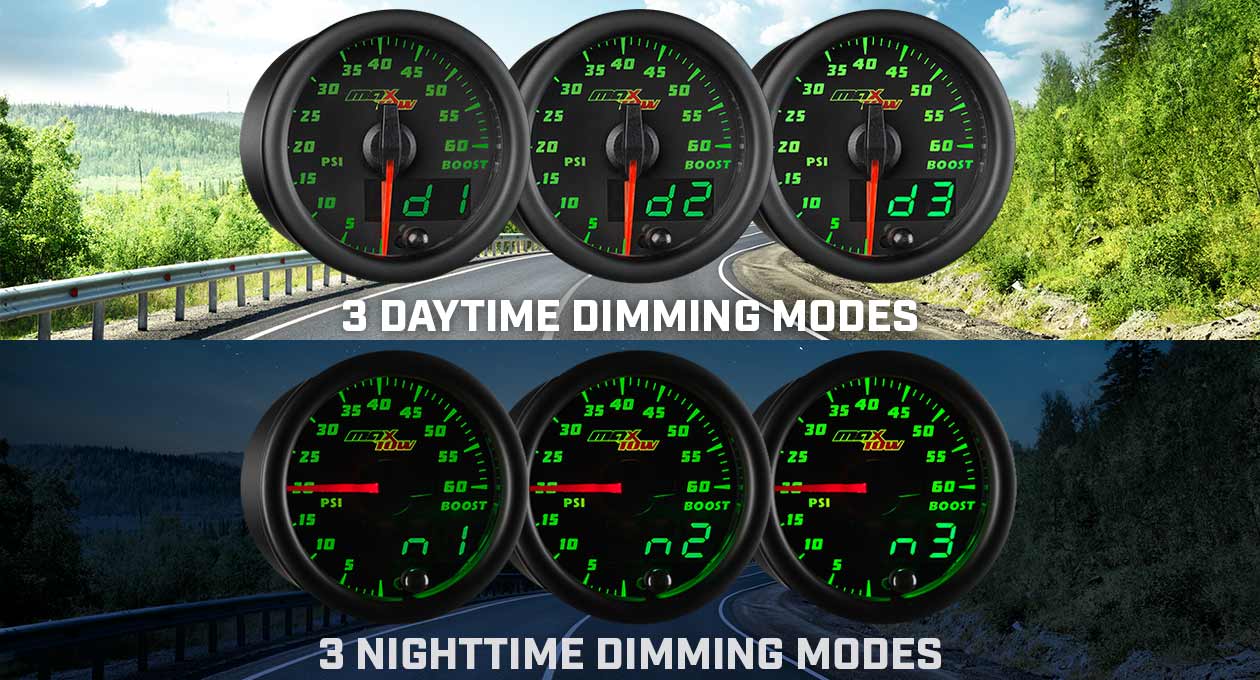 MaxTow rear differential temperature gauges feature innovative Daytime and Nighttime Dimming Modes with three customizable brightness settings (Low, Medium, High) for each mode. This gives you multiple dimming options, allowing you to set your individual preference when hitting the road during the day or later on at night. Adjust for the right amount of brightness as you're taking readings.
Why Do I Need a Truck Diff Temp Gauge?
A rear differential temperature gauge is for any truck that demands even greater output and performance. While this gauge is primarily designed for trucks towing heavy loads over long distances, it also works as effectively with off-road vehicles and race applications. If a gas or diesel engine's differential temperature is running too high, it could lead to premature wear and costly repairs. That's where this differential temp gauge alerts you in the event your truck's differential temperatures are showing any unusual spikes.
MaxTow Guarantee
MaxTow Gauges is your source for cutting-edge aftermarket automotive products specially designed for gas and diesel trucks. Shop with confidence knowing all purchases are backed by a One Year Limited Warranty and Free Lifetime Tech Support. You will also have access to an unrivaled customer support experience in the event you have any questions about our gauges, pods and accessories. Established in 2012 by truck owners for truck owners, we remain dedicated to getting the most out of any truck. Get ready to hit the road and Tow to the Max™
Tech Specs
| | |
| --- | --- |
| Range of Reading: | 100° - 250° Fahrenheit |
| Diameter of Gauge: | 2-1/16" or 52mm |
| Depth of Gauge: | 1-5/16" or 33mm |
| 12-Volt Power Required: | ✓ |
| Power Wire Harness Length: | 5' |
| Sensor Wire Harness Length: | 9' |
| Included Parts List: | Power Harness, Sensor Harness, Temperature Sensor, Weld-In Bung, Mounting Hardware, Gauge Visor & Instructions |
| Sensor Thread Size: | 1/8-27 NPT |
| Actual Sensor Size: | 5/8" Diameter |
| Power Harness Gauge Size: | 18 Gauge |
Instructions